This film adaptation of Alice Walker's heart-breaking novel follows Celie from the darkest moments of her life to the most joyous.
Year: 1985
Directed by: Steven Spielberg
Rating: 9/10
Length: 2hrs 34mins
Genre: Coming of age/Period drama
Memorable quote: "I don't know how to fight. All I know is how to stay alive."
Until now, I've never thought of The Color Purple as a 'coming of age' film, but I suppose that is what it is, among many other things. Celie is only 14 when she begins her narration at the start of the film, and a grown woman by the finale. But this is not akin to other coming of age films in which a child starts school, finds a best friend or experiments with love and sex. Far from it.
It's important to say that The Color Purple is often misunderstood by those with no prior knowledge of the novel or film to be about slavery, or the continuation of insidious racism in the southern states, purely due to its period aesthetic and the almost entirely Black cast. But aside from a few necessary scenes, The Color Purple is not about race or racism, but instead a universal story of people, relationships, class, abuse and family.
Though it may be true that race is not central to the plot or characters of this story, the fact that it is an adaptation of a significant piece of African American literature and a portrayal of Black lives, did cause a stir upon release in 1985. A spokesperson from the Coalition Against Black Exploitation claimed the film 'lacked any balance', and the president of the Hollywood branch of the National Association for the Advancement of Colored People (NAACP) commented on how degrading the film was to Black men. Many people were justly disappointed that not only had a white director made this film, he had stripped it of the novel's complexity.
This review won't compare the film and novel. This is to keep my focus on the film itself, but also because I haven't read the novel in over 6 years. There are clear nods to the novel however, with the narration by Celie coming across in parts as if she were writing it all down, and also encompassing her prayers to God.
Ultimately this film is an account of trauma after trauma, with an ending so joyful that you're crying throughout for so many different reasons. As a child, Celie is subjected to countless forms of abuse at the hands of men; she has two children by her father, both of which are forcibly taken from her at birth. She is then given away to marry 'Mister' Albert Johnson (played by Danny Glover), who abuses her and treats her as nothing more than a maid and nanny to his children.
The strongest bond to be found in this film is between Celie and her younger sister, Nettie. They love each other unconditionally because they are all each other have. In a horrendous scene in which 'Mister' literally pulls them apart, Nettie screams "Nothing but death can keep me from her!" In a post-production interview, both Danny Glover and Akosua Busia expressed how difficult it was to film this scene; Spielberg told Glover to do anything he physically could to separate the girls, and told Busia not to let go of Desreta Jackson (young Celie) at any cost.
As an adult, Celie is played by Whoopi Goldberg – her breakthrough role. Whoopi contacted author Alice Walker as soon as she finished reading the The Color Purple (released in 1982) and introduced herself, saying that if there was to be a film made of this, she desperately wanted to be in it. Little did she know, Walker had seen Whoopi's comedy shows and was a big fan, and had already suggested her to casting. A match made in heaven.
Goldberg's ability as a comedienne shines through and adds a heart-warming quirk to Celie's character, showing itself through sticking her tongue out or quietly mocking Mister's incapabilities.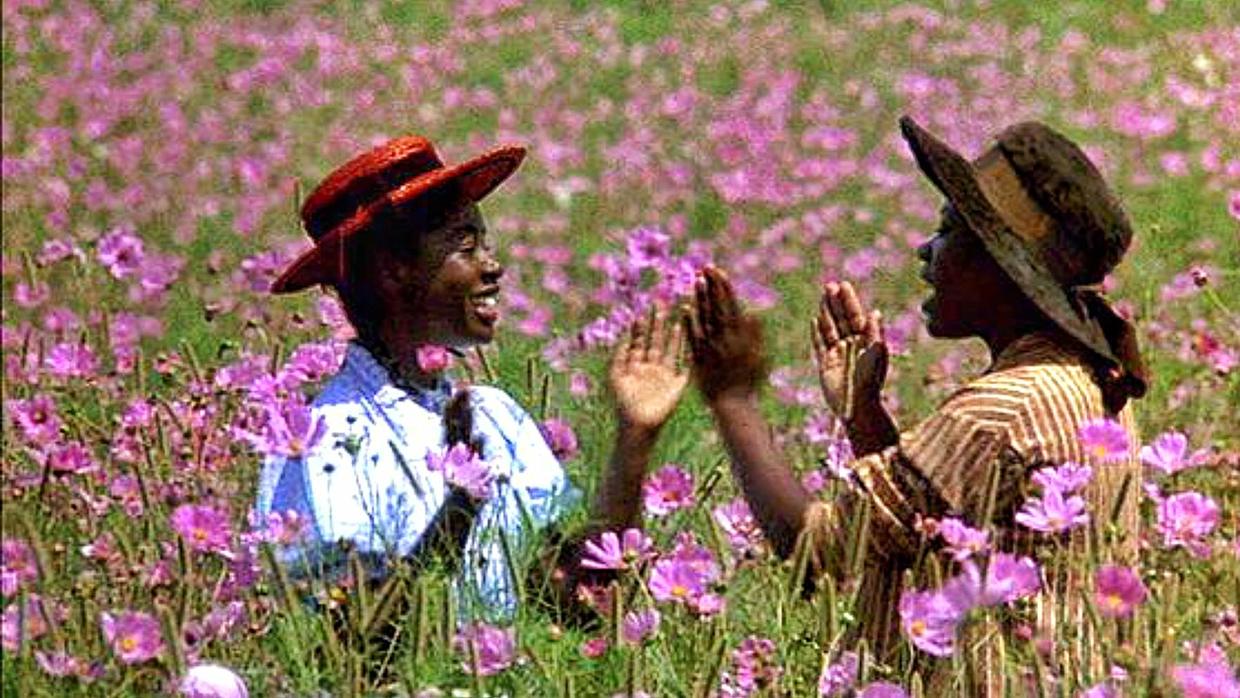 Another actress who made her debut in this film is Oprah Winfrey. Another huge fan of the novel, Winfrey was desperate to be cast in the film. She auditioned and initially didn't hear back, but eventually was contacted by Spielberg for the role of Sofia. Oprah is an absolute star in this movie.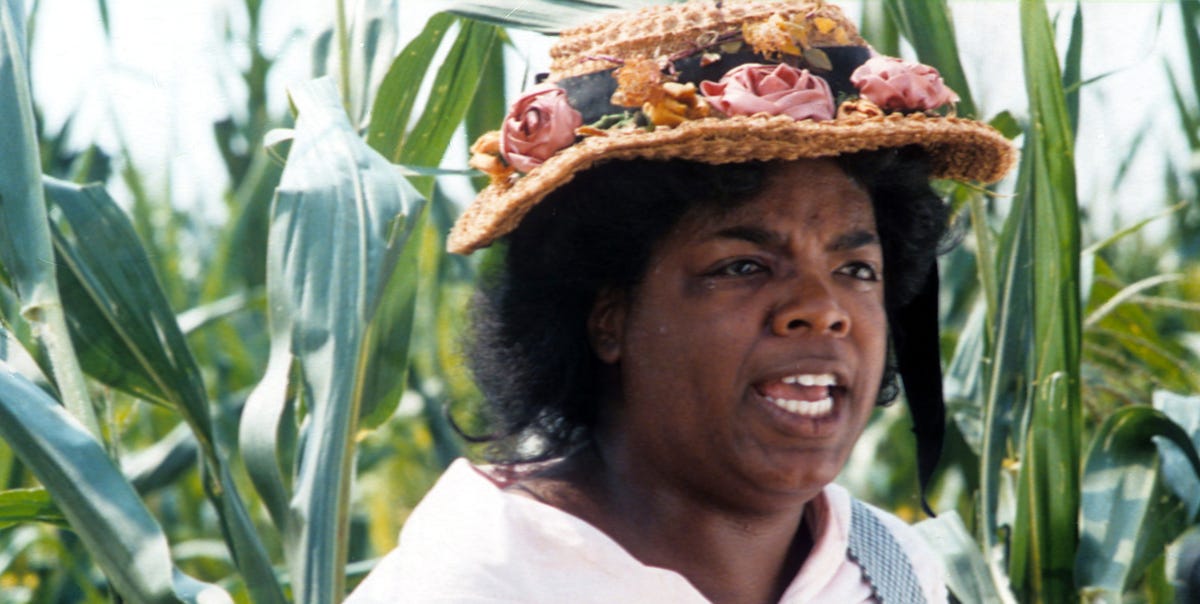 Sofia is the wife of Harpo, Mister's eldest son. She is a powerful matriarch and a victim of abuse, determined to make a happy home with Harpo and their children. Harpo is a victim of the patriarchy himself however; rather than recognising a loving wife and happy family when he has it, he demands Sofia take a more traditional woman's role. When she declines to carry out all domestic responsibilities, he takes to beating her, which doesn't go well for him. Oprah Winfrey's performance as a woman who is at mentally and physically destroyed by abuse is breath-taking.
In a film of seemingly endless dark times, light is found in the strangest of places for Celie: the love of Mister's life, showgirl Shug Avery. Arriving in a drunken state straight from a show, Shug Avery takes one look at Celie in the doorway and squawks "You sure is ugly!" in fits of laughter.
After a few days of living with Mister, a bond begins to form between the women. Despite her sharp tongue and strong exterior, Shug is sympathetic towards Celie, writing a song called 'Celie's Blues' for her. She becomes all at once a mother, sister, friend, and more (which seems weird but somehow isn't) and is deeply compassionate at heart.
Although Hollywood censorship tries its best to hide what is more obvious in the novel, Shug also becomes Celie's first sexual experience to which she consents to and enjoys. Celie's attraction and love for Shug is obvious enough after they share a tender kiss and in Celie's own words: "Shug like honey and now I's just like a bee." The colour purple is synonymous for many with the history and culture of lesbians (and queerness more broadly). If you're interested in reading more about this, I really enjoyed this blog post on 'Dressing Dykes' by Eleanor Medhurst, 'From Lavender to Violet: The Lesbian Obsession with Purple'.
Instead of detailing the rest of the plot, I'll just say that the second half is the uplifting antidote to the first, and the ending will have you balling. Keep an eye out for purple imagery throughout, usually when Celie finds moments of joy.
The Color Purple was nominated for 11 Academy Awards, but failed to win any. In an interview shortly after release, Akosua Busia comments on the lack of representation of Black directors, actors, actresses and stories getting recognised at the Academy Awards – something that although improved, continues to be the case today. Despite the controversy and remarks on its portrayals, the film did secure Outstanding Motion Picture and Outstanding Actress for Whoopi Goldberg at the NAACP Image Awards.
Although Alice Walker herself had some doubts about Spielberg's decision to cut certain parts out that she insisted they filmed, in a radio interview in 2013 she said 'The story is strong. It's a very robust story and it's very universal so that no matter how they cut it, it's always true. And that is what I really love about The Color Purple.'
Although the specific experiences portrayed in The Color Purple are perhaps not universal to many women today, the themes that the film make space for are nevertheless crucial. For the 1980s, the film's attempts to shatter the resistance to discuss domestic violence is groundbreaking, and is still a conversation ongoing today. As a showcase of the importance of female companionship and support, this film is one that I'm sure all my female readers can relate to.
Up next: Crimes and Misdemeanors (1989)